Welcome to Freaks Incorporated, where freaks rule! This is a World Wrestling Entertainment site, but has no private connections with any of the wrestlers, staff or members associated with the WWE. Anyways, RAW and SmackDown results will be put up on the site within 24 hours after the show goes off television. Pay-Per View results will be on the site for at least a month, until the next P.P.V comes up. Feel free to look thru the image galleries and other sections of the site. Also, feel free to E-Mail me at arvindhwarzone@yahoo.com. Thanks for visiting and have a freakin' nice day!!!

IMPORTANT NOTE: THE RAW TELECAST IS NOW BACK IN MY AREA, THEREFORE RAW RESULTS WILL BE UPDATED
AS USUAL STARTING THIS WEEK.



CLICK ABOVE FOR NO WAY OUT RESULTS
(results will be up until the next PPV)

_________________________________________________________________________________________________________________
CURRENT ISSUES:


Booker T has managed to push himself to the top of the league,
and by winning the Battle Royal, has given himself the chance to face Triple H
for the World heavyweight Championship at Wrestlemania 19. Booker T was formally
associated with Goldust and kept himself competing in the Tag Championship division.
Now, Booker has the opportunity to take back the title which he himself brought into the WWE,
after the WCW had closed down.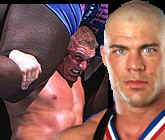 A greatly anticipated match is set to take place at Wrestlemania, for now.
Many fans around the world had wanted to see Kurt Angle take on Brock Lesnar for a long time.
The match was set on Smackdown, but ended up a brief and 'no contest' sort of brawl.
Kurt Angle holds the WWE Championship, and at Wrestlemania, will defend it against the winner of the
Royal Rumble, Brock Lesnar. It's F5 vs. Angle Slam in a match that promises
to be one of the greatest events in WWE history.





The Rock is back, with a new look and a brand new attitude. The Great One is now
a major bad-guy, and as things are unraveling, seeing that The Rock is now on RAW, it seems
that yet another Stone Cold vs. The Rock match is set for Wrestlemania this year. We saw The Rock
win the championship at Wrestlemania 1999' from Austin. Then in 2001, we saw Stone Cold take the
championship from The Rock, and turn heel. We can only guess what carnage will go down in 2003!


______________________________________________________________________________________________________


PREDICTIONS FOR 2003

According to many sources, including the RAW magazine, 2003 is set to be an unforgettable year for the WWE.
The Undertaker is set to make an impact also. After failing to capture the WWE Championship time after time, Taker might find that he needs someone to look over his back. This will lead The Undertaker to form an invincible partnership, and will associate himself with a few members to form an army of unstoppable fighters. Before the year ends, The Undertaker will make an announcement so shocking....it will rock the entire world. Could it be, that The Undertaker will somehow form a new Ministry Of Darkness?!
____________________________________________________________________________________
WRESTLING LYRICS

WWE Forceable Entry
WWF Aggression
WWE Desire songs
WWE Anthology
Suitable Lyrics For Certain Superstars
_______________________________________________________________________________________________________
OTHER SECTIONS

WEIRD STUFF- this section contains images and storylines that have repeated themselves in a not so obvious way. Other than that, it has things that are really strange in the world of wrestling, but are not realized that easily.

CREDITS - this page was built specially for the people who I know personally, through E Mail, chat rooms or are family and friends. For those of you whom I know and have personally given this web address to, please take time to visit this section of Freaks Inc.

LINKS & AFFILIATES - visit the sites Freaks Inc. is linked or affiliated with. Trust me, there are some pretty cool sites in here with really great wrestling content.

_______________________________________________________________________________________________________
WWE HAPPENINGS

New WWE book
A Team Benoit planned for SmackDown
Macho Man talks about a return
WWE Worries about SmackDown
Eric Bischoff vs. Ric Flair
The Rock leaves soon
Kurt Angle no more in WWE?!
WWE interested in new talent
Goldberg & WWE..done deal?!
The Undertaker speaks about WWE issues
WWE missing the 'Edge'
Evolution becomes deterioration
Austin raises the ratings
The Rock receives great appreciation
WWE signs 'One Legged Wonder'!!!
WWE spends more time on RAW
NWA & WWE want the Stinger
Goldust to return with new gimmick
Sting Confirms Talking To Vince
Limp Bizkit to perform at WM XIX
Kane speaks about other superstars
Booker T receives major push
New WWE Game
Sean Waltman talks about a return
Lex Luger Talks About A WWE Debut
Many superstars to face turning points this year
WWE admits facing BIG-TIME turning point.
COULD IT BE: WWE plans on having two companies?!
WWE To Tour Asia Once More
WWE plans on reducing number of PPV's
Kane to be turned into major heel this year. Read what Kane has to say about it.
RUMOR: The Rock to be in Johnny Bravo movie...or Venom in Spiderman 2?!

_______________________________________________________________________________________________________