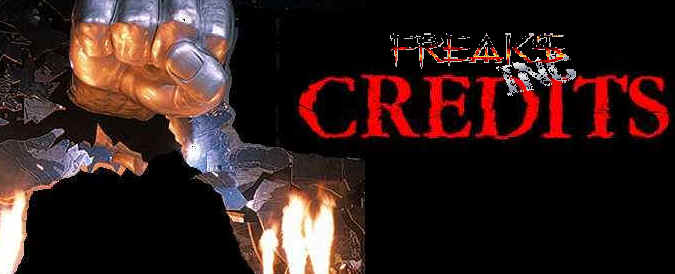 This site was done for the many people who helped me build this site, as well as those who are known
to me, whether be by E-Mail, Chat rooms or even known friends and relatives. I've listed out as many names
as I could remember, but if at all, your name is missed out...and you know that I know you, then PLEASE
drop me an E-Mail and say so. Anyway, take time to scroll down and take a look at all those who I know,
some are WWE fans, some are not...some have helped, and some just visit the site...but nevertheless,
they're names are included. So, all I have to say is, thanks for visiting, thanks for helping and thanks
for everything! Have a freakin' nice day!!! AND: In general...THANKS TO ALL OF YOU WHO HAVE VISITED
FREAKS INC. !!!
FAMILY & FRIENDS

Parents - A BIG THANK YOU, for allowing me to build this site, tolerating the Internet bills and of
course, letting me sit up for days until midnight to do what I have done on Freaks Inc.
THANKS A MILLION, BILLION, ZILLION!

Brother, Vivek- Thanks for sharing the pics you saved and the ideas you have contributed to this
site. Without those cool images, this site would be just plain boring. ps: He is a huge
fan of The Undertaker.
Vijaya- Now, she's a great friend for many reasons. It's because she's a huge wrestling fan, she watches RAW
without fail...and best of all, she's a Kaneanite! Anyway, she's helped me a lot by giving suggestions
and ideas about Freaks Inc and my previous sites. Thanks x a Million!


Joel- If it hadn't been for Joel, this site would have never come up, because he's the one who
thought me how to build a site like this, and he's the person who started the trend for building
websites in my circle of cousins. Thanks a lot, really!

Goutham- A regular visitor to Freaks Inc. The one who gives me all the comments and suggestions
mostly. He's a fan of The Undertaker...or maybe it's Kane...wait, I think he said Hulk
Hogan....well, I'm sure it's one of these cause' he always keeps changing his mind.

Praveen- Now, Praveen is a real Kane fan. From the first wrestling match he'd seen up till now,
Kane has always been No.1 in his mind, and that's the way it should be.

Lemuel- Lemuel is another fan of The Undertaker and has stayed a fan ever since he started to watch the WWE
Although he doesn't watch wrestling often, he gets info on the sport thru his cousins and friends.


Paner- If you ever wanted to see a loyal Rock fan, here's one of them. Paner is a die-hard fan of The People's
Champion and has been since he first saw The Rock.

Chuman- Umm...he was a fan of Scotty 2 Hotty, and now he doesn't watch WWE that much anymore. But still,
he's a good friend and that's why he's on this page.

Gunaseelan- Always supports The Rattlesnake, and just loves it when Austin walks in the ring and
opens up a whole can of whoop@$$!!!


Joshua- He used to be a fan of the former WWE star, X Pac, but now he's a fan of the awesome
toothed-one, Edge! Doesn't watch WWE much but stays up to date and is a really great friend.
Mandeep- Just like Guna, Mandeep supports Stone Cold Steve Austin.

Justin - I wouldn't know if he watches wrestling or not, but I know that he's a friend, so I thank him for
being one.
Yugen- Doesn't really have a favorite wrestler, but buys wrestling cards and posters. Still, knows a
little about the WWE, is a nice friend, and that's cool to me.


Talvinder- I don't know his fave superstar but I do know he watches WWE when he gets the
chance. Also, a good friend and a cheer-upper when I'm down.

Eric Chay Che Hoe- Once told me that The Undertaker kicks @$$!! So, I'm guessing he's a fan of
DeadMan Inc. A nice person to talk to about supernatural stuff, cause' he knows
a lot about these things...no wonder he likes The Undertaker.

Koogul- Watches wrestling if he's free. A fan to most of the wrestlers in general...and a really, really
good friend.

Prasath- Haven't seen him for the past 2 years, but still remains a nice friend and a good person
to talk to. But, wrestling, I'm not sure if he still follows it or not.

GRUNT N' GROAN
To the readers of Grunt N' Groan, I'm known as the Kaneanite, so says my nickname when I send in letters.

Dwaynester- The editor of the weekly wrestling column in the Star newspaper and the man behind
Grunt N' Groan. For one thing, Dwayne is the source of wrestling news and happenings.
I'd like to thank him for publishing my letters and giving as much info has he can on the latest
going-on's in the world of wrestling.

E-MAIL FRIENDS
I've never met any of the people below, but they're still pals and I appreciate the fact that they took the time
to EMail me.

Techno Jericho- I love this guy's letters in the G&G. His letters give info on wrestling
moves and how it works, although nobody should ever attempt it at home.
Man, thanks for all the great letters via E-Mail to the Grunt N' Groan.

Menaka @ WWF Girl- She's a great wrestling fan and takes her free time to E-Mail me when she
gets the chance, away from studying for her exams. Thanks for all the mails!

WInMX FRIENDS
I've never met any of these guys and girls before, and have no idea where some of them stay, but
I know that they're nice people to chat with when I'm free. On WinMX, I'm known as Kaneanite.

RockerShawnMichaels - Now, this dude is a fantastic guy to chat with on WinMx. Dude, thanks for
all the fun that keeps coming when both of us are online, and keep on
Rockin'!!

Tanya- Another wrestling fan, and a cool person to chat with. Thanks for letting the Kaneanite into
your chatroom!

I_LUV_CHUCK- A cool person to chat with on WinMX, and a great form of company. Thanks for
keeping me (Kaneanite), company when I needed it.
Snoopy- The way I got to know snoopy is weird. I don't know if he remembers it, but the first time
we met online, we got into a real fight...trashing each other with words. But that's the cool
thing about chatting...enemies are friends, and friends are enemies.
Kane_DX: Yet another Kane fan online, and a cool one to chat with too. Keep on supporting the
Big Red Machine!
Big Evil Red Devil The Undertaker: Now, here's a friend and a fan of Deadman Inc.
DEADMAN INC.: A good chat pal and a fan of The Undertaker
PrimeTime: I haven't seen him around lately, but I used to chat with him regularly, and he's a great
chat friend.
foxy_justina: Someone I talked to regarding freaks...and my website. I dont speak to her often but I
know she watches the WWE and that's cool.
(PLEASE FORGIVE ME IF I MISSED OUT ANYONE)
MSN CHAT FRIENDS
Probably never met most of these people, but they're nice guys and girls, so...what the heck, a freinds's
a friend, no matter what.
Spastic Angel Girl- Thanks for being a great friend online!
(MORE TO BE UPDATED SOON)

AFFILIATES, LINKED SITES & THEIR WEBMASTERS & MISTRESSES
These are a few sites that have added me to their lists of links and affiliates.
All 4 Kane- Thanks, LadyFire for affiliating me to the All 4 Kane affiliates. FREAKS Inc is really
honored to have All 4 Kane as an affiliate.
Triple H Unleashed - Thanks for adding me as one of your links, I am really glad you did.
Moontribes- Thanks for taking the time to E-Mail a reply to me, and accepting my award.

(MORE TO COME SOON)